I enjoyed my recent trip so much I needed some time to contain all those feelings. Haha just kidding, work was eating me up so I had barely any time to write. But today's a Sunday, I woke up at 1 am and now I'm more than eager to finish this post.
SURPRISE! I WENT TO SAGADA.
******* scroll down for my survival kit******
CANNED GOODS. YES, MAMIII. GOTTA PACK UP THOSE CANNED GOODS.
BES, TAGAM NA KAAYO KOS PAGKAON SA BANAUE.
Food prices in Banaue gave me a total shooookt of my life and pretty much I know that the prices in Sagada won't get any better. I packed up all those canned goods. Although, I hate to eat canned food...I pretty much didn't have any choice and it was one of the best decisions in my life evahh.
Anyhoo, we took a van to Sagada. The van terminal is just in the bus stop of Banaue
Met two amazing friends. Donn and Bryan who were solo travellers too. We decided to just go all together.
Where to stay in Sagada?
There are so many hostels around Sagada but the most strategically located is the
One downside is that there are no outlets inside the room (just in the hallway).
Beside it too is the Coda Lines Ticketing Outlet. It's actually across the bus station; very much in the center of the town.
Activities to do in Sagada,
Going solo in Sagada to do activities isn't advisable (imho) because most activities/spots require entrance fee/tour guide/shuttle fee.
We pretty much had to pay for everything. Lucky enough we got in a group.
First, pay for the environmental fee (P35). I thought I could get away with it but no, they require you to show it in every entrance of an anctivity/place.
HERE'S A LIST OF SOME OF THE TOURIST ATTRACTIONS AND ACTIVITIES IN SAGADA.
GUIDES & TRANSPORT FEES
ECHO VALLEY & HANGING COFFINS
P200/$4
SUMAGUING CAVE/SHORT COURSE CAVING
P500/$10 (1-4 PEOPLE)
P600/$10.50 (6 VISITORS)
P1000/$20 (6-9 VISITORS); 2 GUIDES
P125/PERSON IF 13 OR MORE
OPTIONAL: TRANSPO
P350 - TWO WAY
GRASSY LAND/MARLBORO
P600/$12
SHUTTLE FEE
P650/$12.50
LANGSAYAN DANUM TRAVERSE
P1000/$20 (1-3VISITORS
ROCK CLIMBING
P800/$16) (1 VISITOR)
P400/$4 EACH FOR 2 OR MORE
MT. AMPACAO TRAVERSE
P1200/ $24 (1-10 PEOPLE)
BOKONG
P200/$4 1-10 VISITORS
TRANSPO
P250- TWO WAY
| | | | | | | |
| --- | --- | --- | --- | --- | --- | --- |
| If you're on a budget better make plans with other people too. | | | | | | |
Check out what happened in Sagada :)
The much raved Lemon Pie. I love Pie especially Buko, Chicken and Egg. I haven't tried Lemon and well... the Lemon Pie tasted like Lemon ;) Haha it was P30-P40 per slice.
inside the Lemon Pie House
Hanging Coffins
Our tour guide gave us an in depth background about the hanging coffins.
yours truly


then we spent the night drinking with a whole lot of great conversations

spot the canned good over there? haha
The next day, we went to Mt. Kiltepan for the Kiltepan Sunrise (no hangover! haha jk)
Where
That Thing Called Tadhana's (
Filipino movie) iconic moment was shot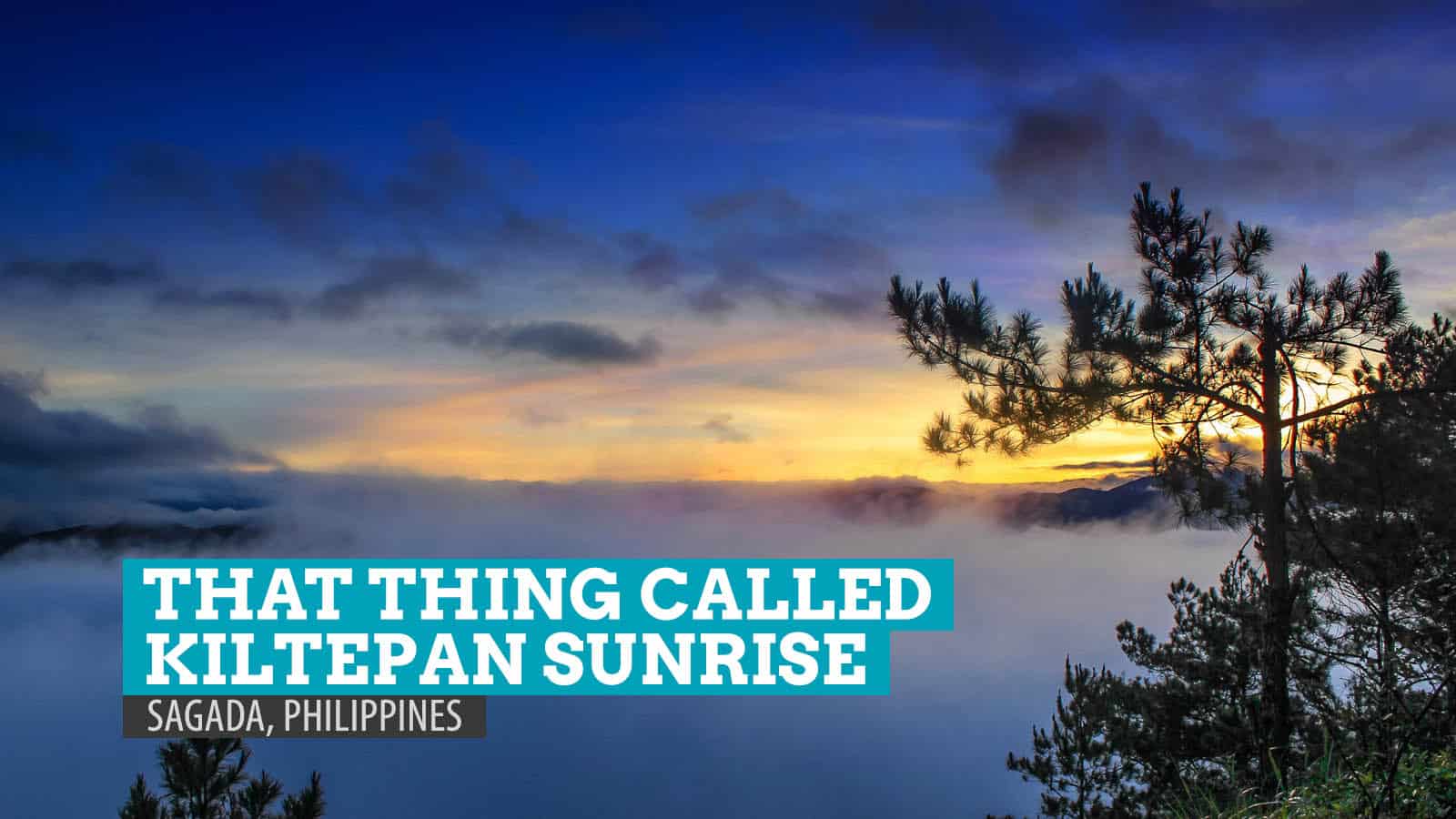 credits from: thepoortraveller.net
The van picked us up at around 4 am and was about half an hour drive
food stalls
P30-for a coffee?
Then we headed to Sumaguing Cave
tripadvisorpic



We survived Sumaguing Cave!
It was my first time to be in a cave and I swear
amazing
is an understatement. (I should check out more caves yknow haha). It was tough even if it was the shortest course and probably the easiest. I experienced rappeling okay!?! Hahaha t'was the best. I suggest anyone to visit one of the caves in Sagada, there's more to it actually. Try it out :) but always be cautious inside! Always be cautious and careful. It could be really slippery so always be mindful of your steps.
Bontok Falls
After Bontok, we had lunch at Yoghurt House.
about P250 x it was good but I was feeling sick by the time we had lunch so I wasnt able to finish it
inside yoghurt house
We left Sagada around 2pm. I didn't want to leave. It was a short stay but it was more than enough. I can say that I have made many good memories in Sagada. Who'd have though such spontaneous unplanned trip would turn out so good and special? :)
Let me end this post with this :
Until my next adventure
xoxo,
Tanya